This was posted a few days ago and removed at Amway's request. The announcement has now been officially made at Diamond Club, but remember – TTAA had the news first! 🙂
____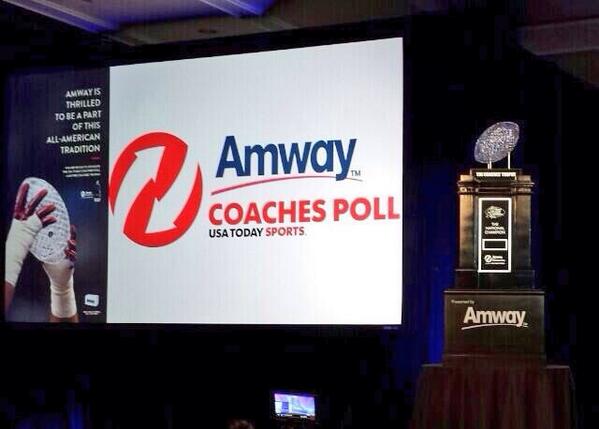 Last week, following a teaser video released by Amway,  I asked What is Amway's mystery new sponsorship? Well it seems the answer has leaked on Amway's website (thank's Carl for the tip!) so 3 days before the announcement at Diamond Club we can break the news that ….. Amway has entered an exclusive partnership between Amway, the United Football Coaches' Association, and USA TODAY Sports. The sponsorship reportedly covers the next three College football championship games and playoffs as well as the coaches poll.
USA Today seems to have leaked the info more than a month ago, with their NCAAF Coaches poll website already mentioning "The Amway football coaches poll" (eta: after my original post revealing the sponsorship, the references to Amway on this page were removed. I expect they'll be back soon, now that the announcement is official)
I'm not quite sure how this sponsorship "has the potential to capture the attention and active participation of more than 2 billion people!" but … ahhh …. look at that, the original pre-announcement on amway.com doesn't say that any more! It now says – "has the potential to capture the attention and active participation of millons of people!"
That seems a little more realistic! For non-Americans, the NCAAF is College American Football and it has a HUGE following in North America, with upwards of 50,000,000 tickets sold to college football games. So while not quite the global impact the initial announcement suggested, this is a very significant announcement for Amway North America.
I've read the wikipedia article, but to be honest I'm not sure that I grasp what the NCAA Coach's poll is, but it appears to engage a lot of people – can a fan explain in the comments?